Post by Alphess Wren on Jun 10, 2019 16:56:54 GMT -8
After a long romance, Cayden and Maleah are finally ready to settle down and have a family. With Maleah heavily pregnant, its time to adopt these pups out!
K H R I S T A L [Claimed by
Hunting Superior Flint
]
Gender: Female
Alignment: Chaotic Neutral - Chaotic Good
Name Meaning: Ice
Personality:
Khristal, being the first born and the only girl, is quite the bossy she-wolf. She orders others around, especially her siblings, and tries to get them to do what she wants them to do. She's bossy, but she's also very intelligent, learning rather quickly that she cannot boss everyone around, but instead picks a select few that she knows will listen to her. She catches on quickly to other's emotions, and knows how to pick up on body language and what a wolf wants from her. Although, whether or not she gives them the satisfaction of the demand is another story.
Khristal is an extreme daddy's girl, definitely favoring her father over her mother. She can been seen following him around the commons and territory, and often running to him should a problem with her siblings or anyone else arrive. She's a little princess in Cayden's eyes, and she knows how to get her father to take her side. Most of the time anyways. She enjoys her father's company as well, and doesn't necessarily grow out of this when she gets older.
Khristal is easily startled when she's focused intently on something, or is even just absent for a couple minutes in her own thoughts. Very easily scared, she can sometimes lash out at those that scare her, often a snarl given of warning to not do it again. Of course, she apologizes afterwards and lets them know she didn't mean it and that it was her fault, but nonetheless, she makes for an easy target to scare.
The she-wolf is very cheerful and energetic at a young age, being just as rowdy as her brothers, even if she's the more feminine figure of the litter, she still loves getting down and dirty with her siblings in a good mud fight.
Appearance:
Khristal's coat is a plush chocolate colour as a young pup, with small patches of lighter fur around her eyes and a tiny patch on her chest. As she matures, her mother's colouring comes through; russet fur growing through the darker colour as her coat lightens. Her eyes match her mother's, a bright neon green that pierce all those that dare to try her. Around these beautiful gems are small lines of black along the top of her cheeks. Her back as an adult is much darker, and her fur gets lighter as it wraps towards her underbelly. While built much like Kazimir, she is muscular but it is deceivingly hidden within an average frame. When fully grown, Khristal will be 3'3 tall, 6'1 long and will weigh 168 lbs.
K A Z I M I R [Claimed by
Beta Violet
]
Gender: Male
Alignment: Chaotic Neutral - Chaotic Good
Name Meaning: Famous destroyer of peace
Personality:
Being born into Ignasia, Kazimir was raised to believe in Adjetni. As most pups would, they took on the religion easily, as it was much easier to ingrain into their head at a younger age. But Kazimir has a much stronger belief in their god, more so than his other siblings. He works diligently on his studies, and works extremely hard to make sure he knows anything and everything about Adjetni.
Alongside his studying, he can often be seen brooding if he gets something wrong. He becomes extremely upset by the fact that he doesn't know something perfectly, and oftentimes takes it out on the wolves around him, even if he doesn't mean to. Kazimir is quite the perfectionist and if something isn't perfect, he will mull over it until finally he makes it perfect, or perfect to him at least. He has a hard time letting others know what is wrong when it comes to these moods of his, as he hardly speaks to others, and struggles finding the right words to do so. Instead, he simply just shows them, whether it be through growls and snarls or through whines and whimpers. The former being a favored option than the latter.
Kazimir when young, is often the instigator for fights among his siblings. He makes it known that even if he's not first born, the giant is the top sibling alongside Khristal, and if Arlowe and Oswyn disagree, he shows them that they should agree.

Appearance:
Much like his father, Kazimir is the only pup in the litter to have light fur. From a young age, he will retain a small patch of darker fur around his nose. While most of his fur is a rich cream colour, there will always be one patch of darker fur in the form of a small stripe of black behind his shoulder and black tail tip. His eyes are a bright mint, making Kazimir look much like his father apart from both eyes being the same colour. Stocky and rippled with muscle, Kazimir is most definitely the strongest of the litter. As an adult, Kazimir is the largest of all the pups, at 3'6 tall, 6'5 long, and weighing in at 190 lbs.
O S W Y N
Gender: Male
Alignment: Lawful Good - Lawful Neutral
Name Meaning: Adjetni's friend
Personality:
Oswyn is by far the happiest and most bubbly pup in the litter. Hyperactive and bouncy, Oswyn is the clown pup, always ready to put a smile on the face of anyone he meets. Laughter is never in short supply with this spitfire! He's aware of his surroundings, and isn't oblivious to the horrors around him. He knows fully when laughter is appropriate and when it isn't, and if there comes a time to be serious, he sober up quickly and act accordingly.
Out of the entire litter, Oswyn is the closest with his mother. Sticking by her side like glue anytime he's not occupied, he is definitely considered a mama's boy. He had be just as protective of his mother as his father is, and loves to just spend time with her. He rarely argues with Maleah. His mother is just as important to him as any Alpha, and even Adjetni.
As he gets older, Oswyn develops an unstoppable jaw, talking on and on if given the chance to. He can talk the ear off of any wolf if they don't interrupt him. The third-born has a tendency to over-share as he chatters away, his honesty being both a blessing and a curse depending on what's coming out of his mouth. This makes him not the best wolf to tell secrets to.
That's not to say that Oswyn likes things as rapid-fire and hectic like his words. The male likes things to be organized and neat, a trait especially helpful considering his interest in medicine and herbs. Being taught about Adjetni just as the rest of his litter is, he often finds himself turning to the Shaman for advice on their God and how to use the herbs he likes pushing into their neat and tidy places.
Appearance:
Oswyn takes after his mother in appearance, his face slender and his colouration typical of an Iberian wolf. Around his mouth is a mask of light fur, but above his eyes is an opposite band of darker fur. The rest of his fur is plush like his fathers, but holds the same blend of red and black that his mother's does. His build is the skinniest of the litter, lithe and agile most like his mother. Unlike his mother however, his eyes are white like with father's. As an adult, Oswyn will be 3 feet tall, 5'11 long, and 145 lbs.
A R L O W E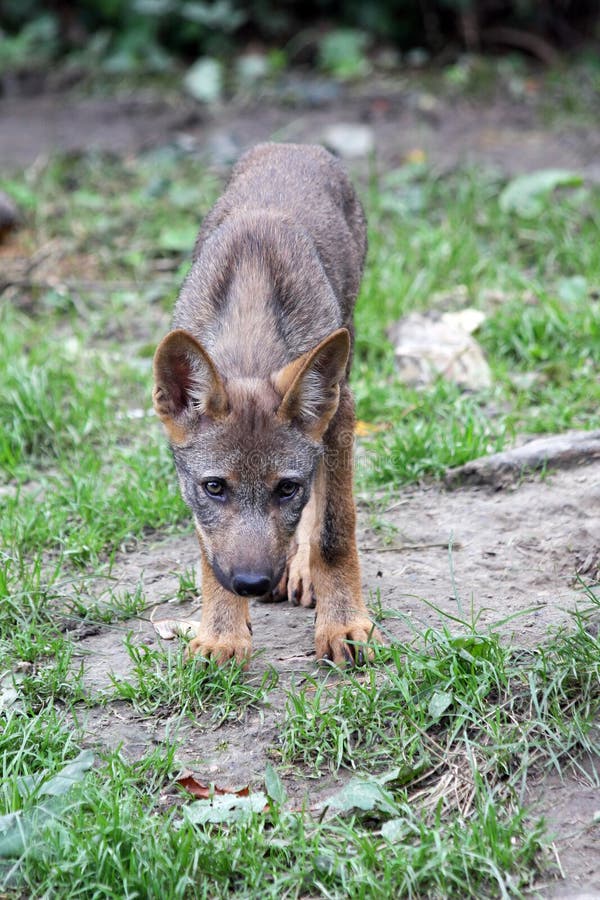 Gender: Male
Alignment: Lawful Good - Lawful Neutral
Name Meaning: Barberry tree
Personality:
Confident but not cocky, Arlowe knows exactly what he wants and how to get it. He'll never let anyone make him into a pushover. If anything, he enjoys the power that comes with exploiting those weaker than him in order to reach his end goal. Putting his best foot forward constantly, Arlowe always want to be the best pup in the litter despite being the last born. It's not that he wants to beat his siblings in their interests, but he wants to prove himself constantly.
Arlowe enjoys purposefully annoying his littermates and other wolves in his age bracket. While not as much of a chatterbox as Oswyn, he does enjoy having a good conversation or banter with those around him. Due to his confidence, he doesn't have a problem talking to strangers or those of higher ranks. He knows how to push the buttons of those around him, but he recognizes when they're about to snap. Due to this, Arlowe is unintentionally the most confrontational of the litter, often challenging even Khristal with his pushy nature.
Arlowe is quite private with his emotions. Around his family, he can freely show his tears, or laugh as loud as he can. However, despite his confidence, Arlowe rarely expresses such strong emotive responses in front of those that aren't his family, or that he isn't very close to.
Appearance:
Arlowe and Oswyn as puppies share a very similar appearance. Arlowe's body is mostly mottled with browns, featuring russet brown paws as a puppy. As he matures, his coat will split into more distinct color groups. His back is mottled with tufts of orange, black, and brown. In between his eyes is a tiny tuft of fur that refuses to lay flat, creating a tiny swirl. His eyes are split like his fathers. His left eye is white but his right is neon green like his mother's. Of the entire litter, the last born is the smallest, but he doesn't let that affect him. Standing fully grown at 2'9 with a length of 5'6, Arlowe will weigh only 120 lbs.
If you'd like to adopt one of these two beautiful boys, just fill out the template below!
First Choice:
Roleplay Sample: